A few months ago, through one of the series of rabbit trails my brain follows, I was inspired to research a phenomenon related to World War II of which I had not previously heard in detail: what was known as
Kindertransport
.
The idea was simple: Europe was falling to the Nazis daily and people from within could see that the future for the Jewish community under Nazi rule was bleak, so they endeavored to get them out of there. Great Britain agreed to accept them, but only the children. And, surprisingly, the Germans agreed to allow the children to leave, as well. Thus, over the course of nine months, thousands of Jewish children were funneled from Germany, Austria, Czechoslovakia, and Poland. Most came to Great Britain, but some also traveled to France, Belgium and the Netherlands, where they would also later need escape. Some were accepted into homes, but many did not want the added burden of more mouths to feed, so many more were sent to children's homes in the country.
Thousands of children. Sent by their parents to a future unknown. The vast majority never saw their parents again, or even their home country. Parents forced to make this choice - put their children on a train, promising a holiday in England, not knowing what the soldiers on the streets would do the next day and if they'd ever wipe those tiny noses again.
Babies. Babies left in the arms of teenagers to travel by train or boat to the arms of a stranger. Babies who might not even know they had a family to search for by the time this ordeal was over. Babies who might not even know they were the only survivors of a grand heritage of heroes.
It broke my heart.
That these families had to be torn apart because the only hope for survival was in the children - because no society in Europe wanted an influx of workers that would put their own population out of work.
From where we sit now, knowing the fate that awaited the Jews left behind in the countries where the parents and grandparents remained, we weep. We weep knowing these European nations could have done more. They could have opened their doors wider. They could have stretched their food further. They could have done
something
more to prevent millions.
Millions.
Millions of Jews from facing a fate we don't even want to fathom.
I'm sure it seemed comfortable here on this side of the ocean, watching poor Europe fall apart, glad it wasn't happening here.
Because America wasn't doing anything, either. A nation forged on the backs of refugees, explorers, those who saturated a continent with travelers from foreign lands. They didn't want to accept even the children. The handfuls accepted were done so begrudgingly, with very little government support or assistance.
If they had known. If they had known, would it have made a difference?
If those soldiers had seen the trucks piled with emaciated Jewish bodies, the mass graves, the gas houses, the work camps. If they had seen them earlier, would the nation, all the nations, have responded differently?
I wondered. And I wept.
Yet, here we are. At the culmination of
what has been called the greatest refugee crisis since World War II
. It is a watershed moment for us, as a nation, as a planet.
Have we learned our lesson?
Or should we continue to wait as these thousands upon thousands of individuals and families see something so horrific happening in their own country, their home,
that they would risk their lives, traveling treacherously on a journey many won't even survive, taking almost nothing with them and then abandoning the miniscule amount of possessions they did carefully select, for the sake of survival
. They can see it, what we refuse to see. They understand the risk is worth leaving behind what is happening.
And here we sit, on the other side of the ocean - or some even on the other side of a sea, or a border, or a fence - and we think, we're glad it's not happening here.
At least it's not me
who has to decide which of my children will survive
.
At least it's not me
hearing the sound of my husband calling my name over the waves as he drowns
.
At least it's not me
living in an empty shipping container wondering what will happen next
.
A month and a half ago, I was privileged to visit
the home of Corrie Ten Boom
, one of many heroes of the era in which these Jewish people needed protection from communities that had never before given their heritage a second thought. We saw the living room where she welcomed these people of God and the very hiding place where six were concealed and protected from a dire fate while she and her family were arrested. She was the only one of those arrested in her family to ever return to that home, that living room, that Hiding Place.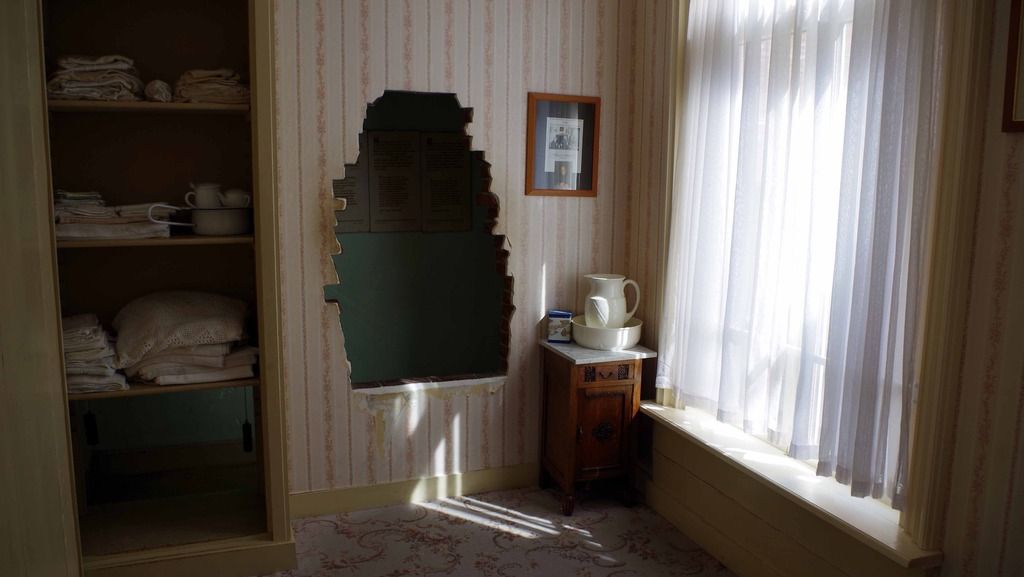 As I spoke of this experience with a friend who has seen decades more of this life than I have and has the wisdom to prove it, she mentioned in her soft voice, "It always makes me wonder what I would have done."
And as I considered the news with which I had been bombarded for months of a situation in Europe I would rather pretend isn't happening now, I spoke honestly, "I think I would have closed my ears to it." Because that is what I do now. That is what I do when this crazy life inside my own home swirls around in my head and I can't even think straight as far ahead as to what will be for dinner - to the point I put a box of Star Wars macaroni and cheese on the counter in front of my face, so the next thirty-seven times I stop myself to ask that question, I'll remember the answer. How on earth could this crazy, hectic brain ever even wrap itself around what is happening a world away? And I've told myself it's ok. It's okay to close my ears to protect my mind, my sanity, from going awry. For the sake of myself and my family, I need to shut it out.
I told my friend that day, "It's hard enough just to focus on living my life, let alone think about what others are having to endure." and then I paused, as I heard my own words, "Maybe," I continued, "that's the problem. I'm trying to live
this
life in the context of what's going on and I can't make that work. Corrie Ten Boom had to be willing to
change the way she was living
in order to make a difference."
Maybe rather than fitting this truth about the tragedies into the context of our lives and, after realizing the piece just doesn't fit neatly into any corner of our minds or hearts we can find, tossing it out as someone else's piece, someone else's problem, we need to come to the reality that perhaps our lives need to change to fit the context of what is happening a world away.
We can't keep living in ignorance and hoping the world will change. Hoping those escaping horrors we would rather not contemplate will find somewhere to land and someone to lend a hand, as long as it's not us.
It's time for us,
as the church
, as humanity, to say we won't let this happen again. Not on our watch. We won't watch millions die because we would rather close our eyes than see what's in front of us. Because we would rather seek entertainment, comfort and numbness than do what it takes to let the truth set in - to feel the blood on our hands as we have rejected those who cry out.
What will you choose? As we walk in Christ, let our answer always be that we will
choose love
. And
a love that is not just in word or in speech, but in deed and in truth
. Love with your actions, your very life.
Love
. And act.*
*For those unsure of where to start, please visit
wewelcomerefugees.com
or
samaritanspurse.org/refugees-europe