For many years, I have lamented my summer birthday. My summer birthday that is less than a week before the Fourth of July - meaning I had no fun surprises at school, no balloons at my locker, no one singing to me in the halls, no elementary school parties (except for the lame one that covers "all the summer birthdays"), and to top it off, by the time my birthday came, everyone was out of town, so no party, in general. Lame.
Then, I got married and you'd think that would be a built-in celebration - after all, my family isn't going on vacation without me, so they have to be with me on my birthday. True. But I happened to marry a man whose special day is only three days after mine. So, out of a perfect storm of failed birthday pasts, fear of no one actually planning anything for birthday celebrations at all, and needing to budget for two birthdays in one week, I took over all planning on my own. I would plan a special day for the two of us to celebrate together just to be sure I got to celebrate at all.
And then, out of the gratefulness of my heart, I lamented those birthdays, as well. Because I just wanted a day that someone else planned, that I didn't have to do anything but be the birthday girl. Because it's my party, and I'll cry if I want to.
And bless my husband's heart. He has tried. And the few times I have loosened the reigns of planning a little, told him, "That's it - this year I'm not planning anything!" I have always taken it back, mostly. So he has tried. And he has succeeded a few times and I have truly enjoyed the efforts everyone has put in to every one of my birthdays. Really, I do. But in the end, I didn't know how to really appreciate it all.
But this year was different.
This year, I had just been traveling off and on for three weeks solid. So I was done planning. And I was out of money. So, I was simply letting go of birthdays and letting the chips fall where they may. It looks like we got each other tires for our birthdays, anyway - woohoo.
And then I got a card (complete with fake grapes) from a precious friend promising an adventure. And because I don't know how to not whine, I still whined about giving up my birthday weekend - a rare free Saturday this summer - to someone else. I'm a peach to live with, I tell you.
But she did not disappoint. We enjoyed a mini road trip to neighboring towns, exploring antique shops, sharing histories and buying fried pies. She took me to a local "wildlife" park - something that wouldn't be considered worth the price of admission considering the overabundance of donkeys and llamas - disproportionate to the amount of actual wild animals present in the park. But then you have to consider your company. And the laughter that comes from mocking the poor, fat, over-fed-by-park-visitors-like-us creatures that come to the car windows, knowing you've bought cups full of junk-food-feed just for them and knowing you're a sucker for those big teeth and furry heads.
The memories that come from chucking a cup full of feed at an approaching camel because you're freaked out if he gets his head in that window while you were trying to take a picture, you'll never be able to get it back out - those memories are priceless.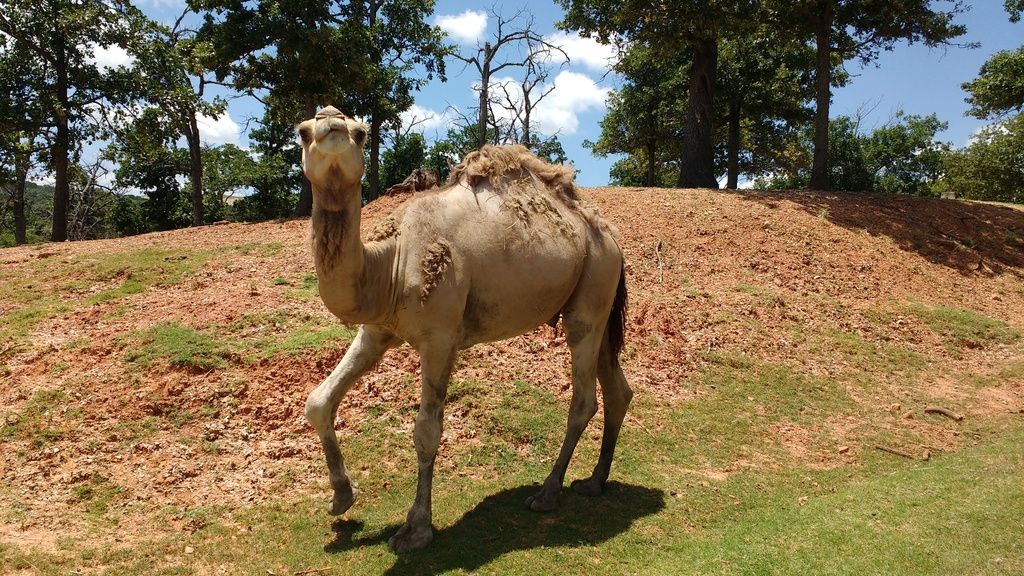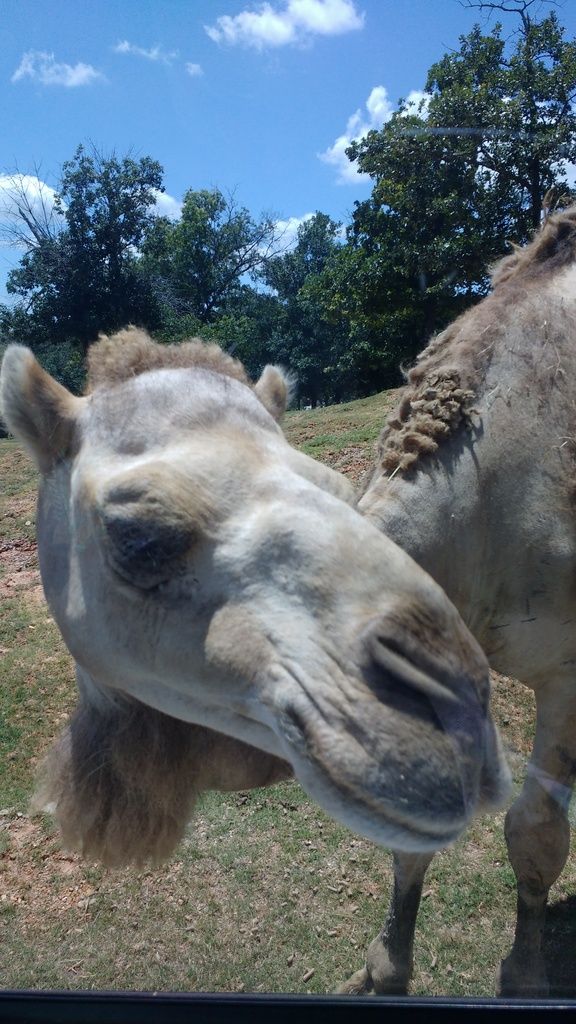 Worth every. darn. penny.
Afterward, we stopped by what we thought would be an average antique store, though it boasted the word "museum" - and learned that hidden inside was a trove of antique cars in mint condition and Harley Davidsons in styles we never even knew existed, and a shop-owner so happy to just have visitors and eager to talk. Unexpected beauty in unexpected places.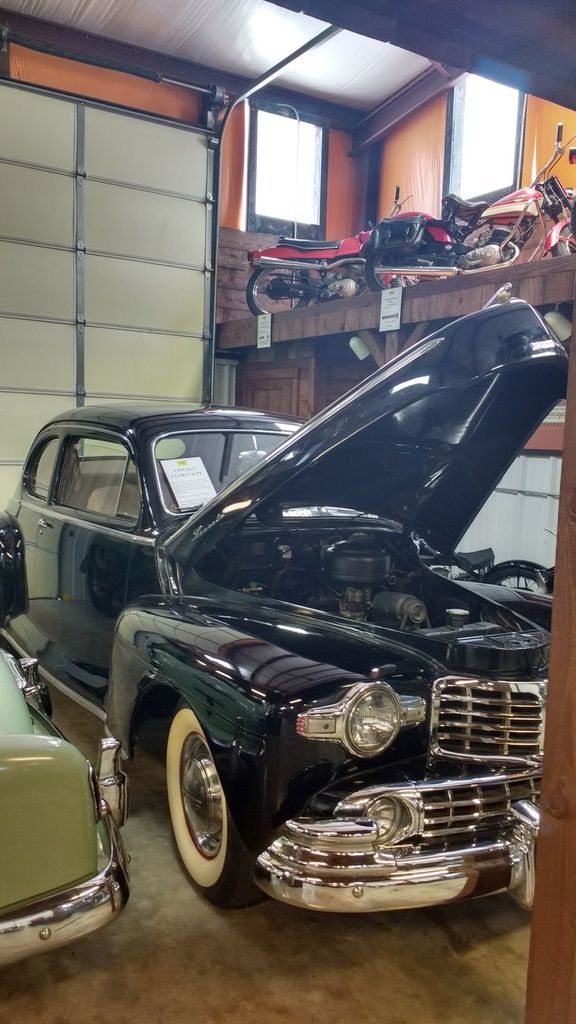 It was definitely the #happybirthday2016 #adventure I was promised.
And that would have made for a satisfying birthday by itself.
And then the actual day on the calendar rolled around. On the heels of a VERY difficult Monday - the kind of day that left me in tears at midnight, hating the fact that this was already my birthday and I didn't even want it.

I woke up with fresh eyes, but a groggy brain, dressed for a doctor's appointment, armed with garden-fresh tomatoes to take to the sister-in-law afterward and left home. Yet, I knew the day had potential. So, while dropping off the tomatoes, I posed a possibility. Would she go with me to a little town an hour away to buy myself a dress I'd seen on my birthday #adventure and hadn't been able to stop thinking about? She peered around, considered the possibility and went with it. What a blessing that decision was. Precious car time with this girl I don't spend enough time with, discussing what's really going on in our lives. Two new outfits (one for me, one for an itty-bitty-pretty back home), two baskets of peaches and a bag of onions later, we made it back home.

And that would have made for a satisfying birthday by itself.

I spent the afternoon watching TV with the kids while coloring in the new book my sweet husband purchased for me (not because he had to - because I told him, we got tires, remember? - but because he truly wanted to buy something just for me) and then, finally, FINALLY scrolling through my Facebook feed.
Now, I'm typically not a fan of Facebook birthday wishes - repetetive greetings - many by people who I treasure, but some by people I'm thinking "Who are you, again?" - it has become almost an annoyance. But this birthday, inspired by a friend more creative than I, I had requested something more - memes for my birthday, laughter to brighten the droll obligatory birthday greetings. And those friends of mine did not disappoint. I chuckled, smiled and rolled my eyes through over a hundred special greetings and memes selected just for me - each one reflecting a bit of that friend and making me remember why I'm glad they're in my life. I later heard from many that my Facebook birthday feed was the highlight of their day and it was hilarious fodder for conversation over coffee and cake with friends later that evening. Truly - it was amazing.

And that would have made for a satisfying birthday by itself.
But it wasn't over yet.
After memes, naps, the library, dinner made by my wonderful husband, cake, candles, an imagined visit from the Birthday Bird of Katroo (the kids insisted Daddy read me the same Dr. Seuss story we read them every year on their birthdays) and kisses good-bye, it was off to Bible Study where I was challenged by the incredible Priscilla Shirer and enjoyed spiritual discussions with sweet ladies, after which, I was told I was going out for coffee (not invited, mind you, told!).
But on my way, I was captured by the most brilliant sunset. With clouds overhead, the sun was limited to bursting through a thin break just at the horizon. It was streaks of orange and yellow and purple that one couldn't just look away from. It hurt me to turn my back on it to go anywhere else. So I didn't. I chased it down, tried to capture it on camera (impossible) and just reveled in the beauty. Like a birthday gift from the Creator Himself.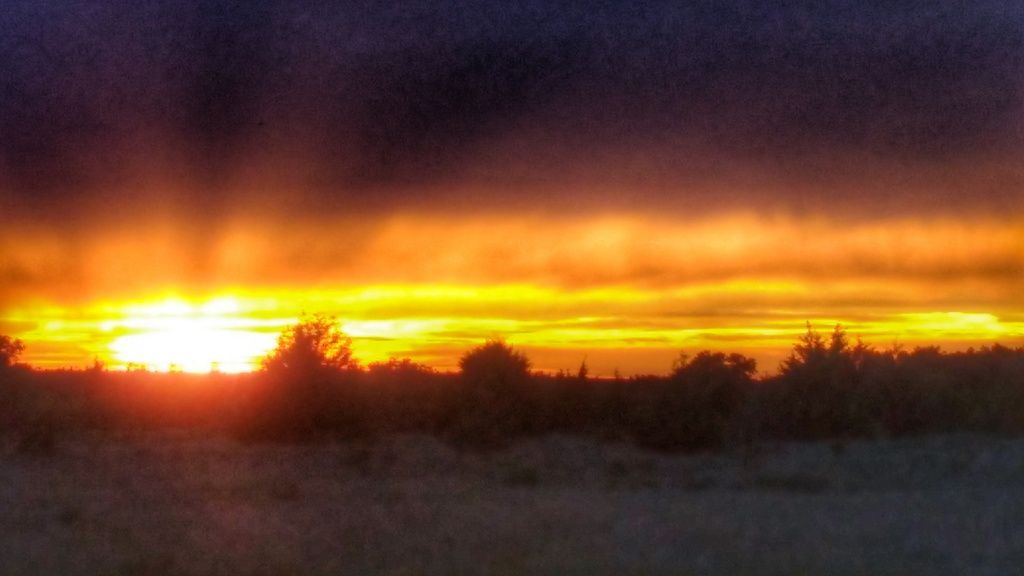 Finally, tearing myself away, I headed to my last stop for the night - that demanded coffee date. As I emerged from the car, notes of "Happy Birthday to you!" wafted over the Starbucks parking lot, from the patio with waiting friends at a table decorated just for me. We enjoyed cake, much laughter and delightful conversation. I even got to use my free birthday drink from Starbucks - a venti (because, why not?!) Double Fudge Bar Frappuccino, with waffle cone sprinkles, java chips suggested by the barista and a drizzle of caramel sauce (because why not just add everything you can imagine when it's all free anyway?). This close to Heaven, I tell you. We sat in the dark, listening to the ambiance of the weed-trimming next door, and were just girls - moms with breaks from the kids - for just an evening.
And that made it a satisfying birthday, all together.
I truly could not have asked for a better day.
And the best part was, I didn't have to plan any of it in advance. It just happened. It fell together through spontaneity and the careful planning of others. I was free to sit back and let the chips fall where they may - and they did - into beautiful places.
So, thank you, officially, to all of you who participated, either in person, or on-line, or over the phone. I treasure each one of you and feel more loved than you can imagine.
And PS - Those summer birthdays, I've realized, are a treasure in and of themselves. Because of my summer birthday, I've spent some of my past special days at Disneyland with my family, being sung to in Spanish down in Peru, at a carnival with friends, gifted with bottles of root beer by sweet campers in Maine, enjoying my favorite restaurant that's not local, while on a road trip with my husband and kids and being sung to under the dark cloudy, but warm sky over Starbucks, staying up too late because we can. Summer birthdays, I've decided, are kind of awesome.